A true piece of heaven in Eastern Algarve…

Villas Luz Romana is composed of 4 elegant rental units: 2 villas for 4 people and 2 villas for 6 people. A round salt water pool stands in-between the villas so you can relax during your holidays.
The property is based right in the heart of the Natural Park of Ria Formosa.  The region embraces over 2 hectares on which was established the port city of Balsa under the Roman Empire in the first century BC.
There are still remains of the theater and the Forum of this period of history in Luz Romana's gardens.  It is in this haven of peace full of history that you'll enjoy a comfortable stay, etc.
Our apartments (80 m²) can accommodate 4 people each . They are fully equipped and are tastefully decorated. Each apartment has a terrace with a splendid view on the sea.  A true paradise!
Book now one of the Villas Luz Romana for 4 people, etc.
A true paradise where you can admire palm trees, ancient olive trees and fruit trees. Discover what Villas Luz Romana have to offer for 4 people, etc.

Charming and comfortable villas for 4 people

A comfortable stay for shared conviviality
Each of our apartments has a spacious living room with a coffee table, a comfortable sofa and elegant chairs.  Perfect to relax after a long sunny day or to enjoy a movie at night – cable TV at your disposal.
A dining room and a fully equipped kitchen to enjoy your meals

Our villas have a dining room with a table and 4 chairs for you to enjoy your meals.
Our kitchens provide you with all appliances and utensils necessary to cook your meals:
Hob
Oven
Microwave
Dishwasher
Fridge/freezer
Toaster
Juicer
Coffee maker
Electric kettle
Cooking utensils
The open area between the kitchen, the dining room and the living room has been designed to allow for maximum usability. Relax  in one of our carefully decorated bedrooms after a long day, etc.
2 cozy bedrooms and a nice bathroom!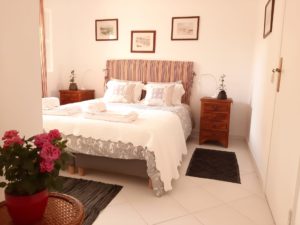 Our villas for 4 people at Luz Romana provide you with 2 lovely bedrooms, one with 2 single beds, the other with a Queen size bed.
Each room is tastefully furnished and is equipped with fans.
There is a safe in each room in which you can store your personal belongings.
Each room gives you direct access to the bathroom.
Bedding is included: bed linen and towels are provided by the Owner.  A washing machine is also available.

Attractive surroundings… right by a salt water pool
Every effort has been made to make your stay a pleasant one.  Our accommodations have been arranged to offer you the best comfort possible.
Landscape all around the Villas Luz Romana is filled with a great variety of trees: Palm trees, olive trees and plenty of other fruit trees populate our delightful domain.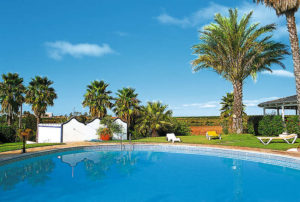 You won't have to go far to take a nice walk in our 2 hectares domain.  This ancient Roman Site is captivating with all its vestiges and its luxurious vegetation.
A round salt water pool (100 m²) stands at the center of this splendid location, offering the benefits of swimming in sea water at any time of the day.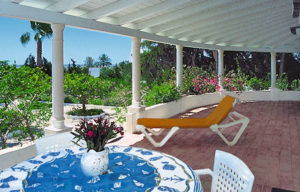 You will enjoy the sweetness of the lawn beneath your feet when you go lie on the lounge chairs at your disposal to be pamered by the sun.
We also put at your disposal a barbecue for you to enjoy your grills.
Our roofed terraces can also accommodate you for a candlelit diner.
Heaven on Earth is closer than you think in Villas Luz Romana.

If you are looking for more spacious accommodation or if you wish to share our fabulous place with other people then our Villas for 6 people at Luz Romana  are made for you.